The Florida Strider's Track Club has many coaches who provide individual coaching for an additional fee. These coaches include the following:
---
Cross Running Academy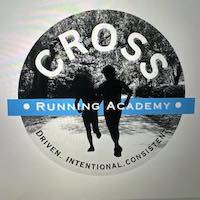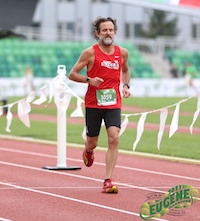 Coach: Adam Cross
Adam's passions have always been two things – running and leadership. His philosophy is that the both intertwine with each other as running creates a strong need for leadership of self. At 47 years old he's driven to help others achieve their fitness goals – whether it be overall fitness, completing a race, or focusing on completing a race goal time.
With each client he works with, Adam focuses on three core values to be successful – to have the desire to achieve, to be intentional in route to achieve, and be consistent across the board. The more an individual does those three things well, the better their outcomes are.
Adam doesn't believe in the apps and internet training programs out there. While they are a nice base to go of o, the bottom line is that it's not individualized and there is no one to talk to about adjustments along the way whether it be illness, work or family situations, tweaks in the body, etc. Adam prides himself by talking to this clients each day to see how things went and any adjustments and advice for the next day.
Adam's vision is to coach individuals all over the country. With the capabilities of text, Zoom, and Facetime it's very easy to have a personal relationship with each athlete. Adam feels part of the experience that he can brings is that personal touch that develops into a relationship of athlete/ coach.
Adam's running career includes 1st team all-state accolades as a high school athlete. He then ran for Georgetown College before moving on to his passion – coaching others. He served as an assistant coach on three state cross-country championship teams. After taking a role as head coach he helped guide two more state championships and one state runner-up team. He also coach several individual state champions in cross-country and track. He was also named Kentucky state high school cross-country coach of the year on separate occasions.
Adam left coaching behind to work in his other half of passion – leadership. He served as a principal and regional director for 16 years leading various large groups to academic and cultural improvements. This limited Adam's time for running, which he missed greatly.
In 2012 he made the decision to start training again after 11 years. Two years into his comeback he was diagnosed with paralyzed diaphragms due to autoimmune disease and reactive arthritis. He had three surgeries to stitch down his diaphragms which significantly limited his oxygen capacity. It took Adam 7 years to attempt another comeback all the while learning to breathe again, running at a much slower pace and learning to love the sport regardless of the speed.
His philosophy for the comeback was simple – he wanted to be a part of what he loved and he had to humble himself enough to put ego aside and just get better each day. Since that time, he has completed five marathons and thirteen half marathons. He consistently runs 75-90 miles a week, granted much slower than he used to, but he still enjoys it – for the love of running.
Adam personalizes things with small motivational daily texts to the group each morning. He also sends emails on Sundays with an article about something to learn about the sport. He also posts daily on his social media channels to share his training and lessons learned for the day.
Finally, Adam values the trust people put in him. He takes that trust very personal and the fulfillment of the athletes he works with is most important to him. It's all about leadership from you and him.
Adam can be reached at crossrunningacademy@gmail.com or 859-462-9916. He also has social media handles on Instagram, Facebook, Twitter and YouTube. We hope you can join us!
---
JI Endurance Coaching
Coach: Jacob Irwin
My name is Jakob Irwin
I am a competitive Masters Distance Runner that currently competes as part of the 1st Place Sports Elite Team. At 43 Years old, I have been running and racing competitively since I was 9 years old. I knew at a Young age that Sports and Recreation was going to be a huge part of my life.
Growing up in Northern California, I competed in both Track and Cross Country at the Highschool and College level. I studied Kinesiology and Therapeutic Recreation in College with an emphasis in Adaptive Physical Education.
During my college career, my main Running focus was based around the Mile. I had aspirations of breaking the 4 minute mile barrier but ended up with a final PR of 4:07.
After College I started to shift my focus on longer distances and over time became more accustomed to the half and full marathon distances. At the age of 30 I moved to New York and ended up taking a couple of years off of running to focus on career development. But I eventually started back up again and after a couple of years, was able to work my way on to a competitive Team in New York known as Willow Street Coed. I started off on there open Team and once I turned 40 I was invited to there Masters Competitive team, earning the number 3 Masters Runner spot within the Grand Prix series in New York
When Covid took place, I opted to take advantage of the only online training certification course, UESCA (United Endurance Sports Coaching Academy) and Became a certified Endurance Coach. While I had coached previously as an assistant coach in college and privately, Earning the certification was still important to me. I will also be taking the steps to obtain a secondary certification through RRCA.
Upon Moving to Florida I quickly presented myself to the Masters Running Community. Myself and a few other Local Masters Runners ended up creating our own Masters Team to compete within the USATF Masters Grand Prix Championship Series. We first raced in Atlanta at the National 5k Championships where we placed fourth as a team. We then traveled to Syracuse NY where we competed in the national half marathon championships and ended up placing 2nd in the country.
Shortly after I was invited on to the 1st Place Sports Elite Team. I later started a Sunday long Run Group in Fleming Island and made my way on to the Florida Striders Board of Directors.
I have continued to coach in a virtual setting, which has aloud me to charge minimal amounts for training. I specialize in training newer runners, runners training for there first or second half marathon, full marathon, etc.
You can check out my coaching page at JI Endurance Coaching (http://jiendurancecoaching.com)
You can also follow me on tiktok @theculturalrunner
---